Konference MEFANET nabídne i letos atraktivní plenární sekce a odborné workshopy, kterých se tradičně účastní významní odborníci a experti z daných oblastí.
Řečnící v plenárních sekcích
Simon Wilkinson

Rogo Manager at the University of Nottingham, UK
Simon Wilkinson has over 14 years experience with e-assessment at the University of Nottingham. Today he manages development of the university's main e-assessment system Rogō. The aim of this open source project is twofold: 1) meet the assessment needs of the University of Nottingham, and 2) build a strong community of use whereby partners can contribute code back to the project.
Making e-Assessment Work: A lean management approach
Conducting large-scale summative assessments online is a dream of many institutions. Increasing student numbers coupled with growing pressures on academic staff are driving the search for smarter ways of conducting assessment. The University of Nottingham has taken a lean management approach to this problem because only by understanding all aspects of the process can a successful solution be developed. Simple software installation is not the answer to e-assessment, instead institutions should re-analyse their Purpose, Processes and People to ensure maximum Performance. Nottingham has been developing an open source e-assessment platform called Rogō using an iterative development lifecycle where support for the 4P's is built into the core of the product, not as an afterthought. Today the University of Nottingham is supporting many parts of the exam lifecycle including: item banking, external and peer review, crash recovery, cohort/item analysis, curriculum mapping and student feedback. By concentrating on a robust framework for e-assessment the university has successfully delivered more than 21,000 student papers across 360 online exams in the 2012/13 session.
Panagiotis Bamidis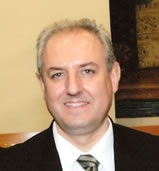 Medical School, Aristotle University of Thessaloniki, Greece
Assist. Prof. of Medical Education Informatics, is leading the working group of Medical Education Informatics at the Medical School of the Aristotle University of Thessaloniki (AUTH). He has been the co-ordinator of large European projects (www.meducator.net; www.longlastingmemories.eu, www.epblnet.eu) as well as the principal investigator for a number of national and international funded projects (more than 25 in total). His research interests are within technology enhanced learning in Medical Education (web2.0, semantic web, serious games, virtual patients, PBL) and Affective and Physiological Computing and HCI and Affective Neurosciences. In 2009, he was awarded the Prize of the AUTH Research Committee for the Best Track Record in funded research projects among AUTH young academic staff. He has been the Chairman/Organiser of six international conferences (iSHIMR2001, iSHIMR2005, MEDICON2010, GASMA2010, SAN2011, MEI2012) and the Conference Producer of the Medical Education Informatics Conference and Spring School Series. He is a member of the Advisory Board for the Open Knowledge Foundation (OKFN) and a founding member of OKFN Greek chapter.
The role of Big Data and Learning Analytics in Medical Education
In the ever expanding and demanding world of medical education, the overall aim is to improve and enhance the experience of the learner. The grand challenge is to empower the learner with knowledge and skills to navigate and meaningfully interact with the vast wealth of available educational resources as well as connecting with other learners. Consequently the learner is encouraged to adopt active learning using self-directed, personalised collaborative learning environments.
Latest endeavors of research teams aim to provide the medical learner with appropriate toolkits that will help navigation through these resources, using the resources best to his/her needs. Such environments are powered by what we define as Medical Learning Analytics. The very allure of analytics would be prediction of student's performance using data readily available in e-learning environments. To achieve this, relevant interaction/attention metadata are required to enable tagging learning analytics suitable for medical education in the light of contemporary learning models and tomorrow's doctor's skills. Big educational data structures are deemed necessary for such an attempt; therefore, a Linked-Data approach must be followed with an Open, Standards-Based Service Architecture in mind, so as for Multi-Faceted Data Analysis to be facilitated.
The talk will focus on extending currently existing tools and processes for collecting, storing, exploring and reasoning on large-scale educational data from scenario based learning accessible in open educational or federated and syndicated educational environments; this gives rise to a massive collection of (big) data from medical students' learning activities. The challenge is to transform their data into information aiming to substantially improving learning and teaching.
It is easily inferred that such efforts will contribute towards innovation in Europe as well as policy formation and standardisation activities in the framework of 21st century skills and towards the objectives of the forthcoming Horizon 2020 programme.
Adrian Raudaschl

Medikidz Limited, UK
Adrian Raudaschl is a qualified doctor and medical app developer. His medical app company 'Medmosis' has created a range of medical applications including drug calculators, medical student educational tools and virtual simulations in collaboration with Glasgow Medical School and the UK National Health Service. His most recent application 'Microbiology Virtual Patients' has been downloaded over 5000 times within the last 2 months, and his other application 'Ward Round' is one of the highest rated medical apps on the Apple app store. Adrian currently works as a doctor in London, and is also employed as a digital project manager for a children's medical education company - Medikidz. He is a keen innovator in the field of medical app design and passionate about the application of game theory in education.
Gamification of Medical Education: Guide to medical app research, design and implementation
The aim of the workshop series is to teach absolute beginners–those who have never programmed–how to put together a simple app (experienced programmers also welcome!). By the end of the workshop, participants will
Gain an overview of the use of medical apps use in hospitals, the community and in education.
Gain a solid understanding of app design and development lifecycle.
Understand app design capabilities and constraints.
Personal case studies on the production of medical apps.
How to be able to develop, deploy, and test a basic prototype app.